It's the first full week of July and there are some political trends worth checking out.  Usually the summer is very slow news time since so many people are on vacation or otherwise busy enjoying what summer has to offer.  However, with Cap-and-Trade, Obamacare, and Tea Parties galore, both June and July have already been pretty busy!
However, here's Rasmussen's latest take on his Presidential Approval Index (strongly approved minus strongly disapproved).  Looks like the halo is getting heavy for our Most Beneficent Leader: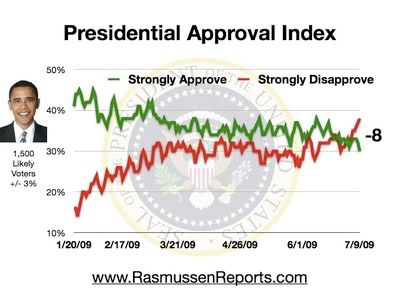 Also, the New Jersey race for governor has tightened slightly.  Republican Chris Christie once led Jon Corzine by about 13 points after Christie's nomination bounce.  This has settled to about a seven-point Christie lead, 46-39%.  New Jersey will be a serious bellwether for where national politics is moving.  Obama and Biden will be in every city, township, borough and hamlet across Jersey to save liberal Jon Corzine.  If Christie pulls it off in spite of that and a Republican wins a statewide NJ election for the first time since 1997, 2010 will look more and more hopeful for the GOP nationally.