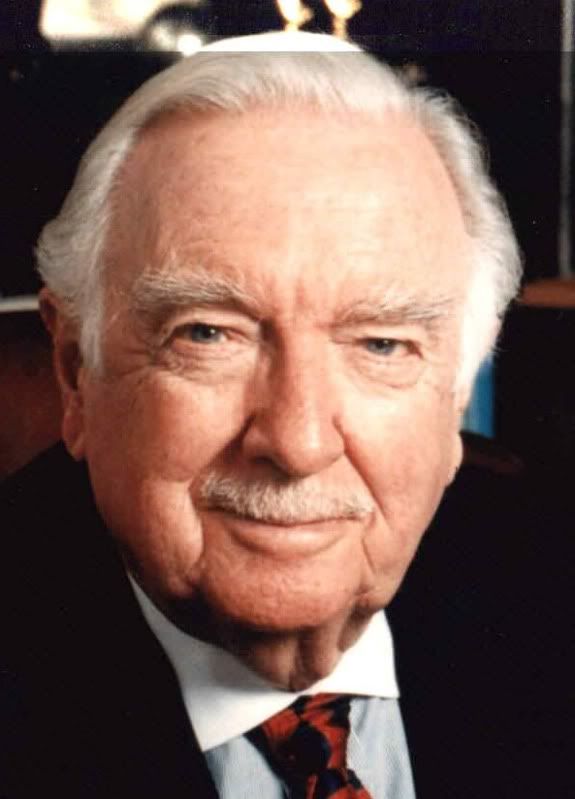 Deemed "the most trusted man in America," CBS-TV journalist icon Walter Cronkite died yesterday at the age of 92.  His long and storied career in journalism spanned from World War II though the 1980s.  As a relatively new medium with only a few channels, Cronkite's presence on the tube when JFK, MLK, and RFK were assassinated, after the Tet Offensive, during Watergate, and the Iran Hostage Crisis made a real impact on people – you could trust him to bring you the news straight. 
Looking back from 2009, Cronkite was certainly liberal in his worldview and his sentiments, but he reflected and sometimes tried to shape the general attitude in the culture — America itself was generally more liberal back then anyway.  He left the CBS News anchor's chair in 1981, after the Hostage Crisis and before the assassination attempt on Ronald Reagan.  In later years he kept busy in the business, ended up a John Kerry fan, came out against the Iraq War, and admitted his prejudices without saying they affected his work — maybe not consciously, but behind every premise in his reporting was the idea that Liberalism is the de facto correct position to take.
He was a man of his time, a trusted name in news for decades, and a TV icon who influenced and connected with millions of people throughout the many years he was with us on radio and TV.