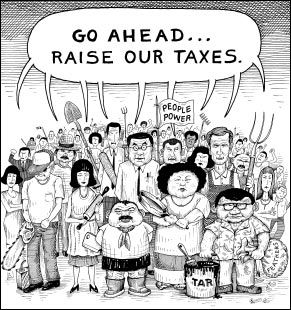 I did a lot of driving today.  So, I listened to a lot of radio from such people as Laura Ingraham, Andrew Wilkow and Rush Limbaugh.  Well, not everyone gets to listen to their shows regularly and a common thread seemed present throughout them all (of course fit in between the Town Hall/Health Care thing): 
August 12, 2009 is the date calculated by Americans for Tax Reform and the Center for Fiscal Accountability on which:
the average American has earned enough gross income to pay off his or her share of the spending and regulatory burdens imposed by government at the federal, state, and local levels.
It's a full 26 days later than last year!  So, it only took 224 days (and that's before Obamacare)!  You may have paid off your individual tax liability to the federal government on or around "Tax Freedom Day" in April, but not quite what was imposed on you by all levels of government.  Pretty scary when you look at it, even scarier when you take into account how the present group in Washington and in many state capitals aren't done thinking of new ways to tax us!