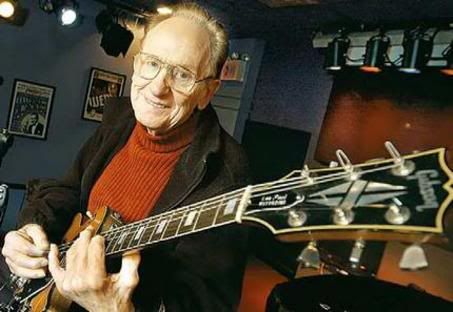 Les Paul (1915-2009) died today from complications due to pneumonia at the age of 94.  Those of you not in rock-guitar circles or are under the age of 50 may not know much about Les Paul.  Les Paul is credited with inventing the solid-body electric guitar (making them much thinner, reducing feedback, and much more flashy… and easier to spin around one's body!), and for innovating the instrument in numerous ways. 
I've played guitar for roughly 18 years.  I've owned Kramer, Fender and "Les Paul" electric guitars.  I used to go into guitar stores and ask to play all sorts of the very expensive ones high up on the wall, so I have an idea about what's been out there!  The "Les Paul" has been my favorite because it sounds great, looks great, and feels just right.  Eric Clapton, Jimmy Page, Pete Townshend, Tony Iommi, and countless others have all used "Les Paul" guitars. 
As a guitarist and one who specifically favors "Les Paul" guitars, the passing of this modern musical pioneer is unfortunate, but his contribution to my personal enjoyment as a guitar player and his innovation of the industry in general will be with all of us forever.