Elizabeth Edwards should dump this guy like last week's diapers!  But I digress.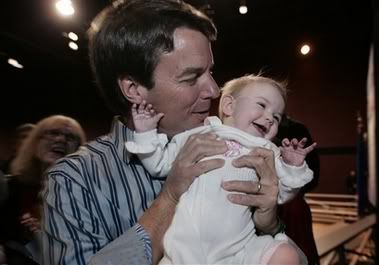 Former Senator and Presidential candidate, John Edwards is likely to admit in the near future what the DNA tests reportedly have already shown — he's a "Baby Daddy!"  For various definitions on what that means exactly, check out the Urban Dictionary and find one which you think fits best here.  Edwards gave the "other woman" Rielle Hunter some hush money, but throughout the pregnancy and during the first 18-months of his child's life he's been trying to avoid the whole thing for obvious reasons. 
So, while there's always room for interpretation when it comes to semantics, he's pretty much a "Baby Daddy" whether or not he comes clean, which reports say he will.  I suppose this is all consistent for Edwards:  two Americas, why not two women or even two families?