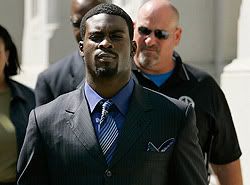 Former Atlanta Falcons Quarterback Michael Vick, shamed and jailed for being part of a dog-fighting ring a few years ago, is out of jail and looking for a new team.  So, when the Eagles' back-up went down in training camp, the two seemed to find common cause:  the Eagles need a back-up and Vick needs a team.  So here we are, Michael Vick is a Philadelphia Eagle at least through next year.
But, will Vick be the same player he was before his incarceration? I'm sure his attitude and work ethic will improve, but is he in "football shape?" I'm not sure he has to be in the short-term. The Eagles may only put him in on option plays or put him in as a third receiver here and there. He's a back-up, which is a good place to start.
How will this all play out?  I made a prediction back in 2007 when Vick went to jail, and I still hold by the idea that some will never let Vick move on past the dogfighting, despite his debt being paid.  However, if there is a team who'd put up with Vick's "reputation following them around" it's got to be the Eagles.  The Eagles have some of the worst fans in the nation — rude, obnoxious, impatient to a fault, prone to destroy things whether they win or lose.  I've come to believe that it's a Phily thing.  Even at Indoor Lacrosse games, the average Phily fan gets pretty scary, ready to boo either the home or away team on a whim!  Generally, the Phily fan would fit in very well at a Third World soccer riot, so it'd be no big deal if Michael Vick's reputation affects their local market — it's only Phily.