A sixth-grade teacher calls her class to attention right after a "God"-less Pledge of Allegiance:  "OK kids, can anyone tell the class what day it is today?"
After some rustling from the students subsides a girl in front of the classroom raises her hand and responds, "It's 9/11, Ms. Hoover."
The teacher replies, "Thank you, Abby," then goes on to ask, "What do we do on 9/11?"
A boy in the back raises his hand enthusiastically, as if he just remembered something important. "Yes, Cody?"
He responds, "Last year we went downstairs to the 3rd grade room and asked Mrs. Tanner if we could recycle anything for her."
"Very good, Cody!  That's because…"
The class responds in unison, "Because 9/11 is a day of service to the environment and the community!"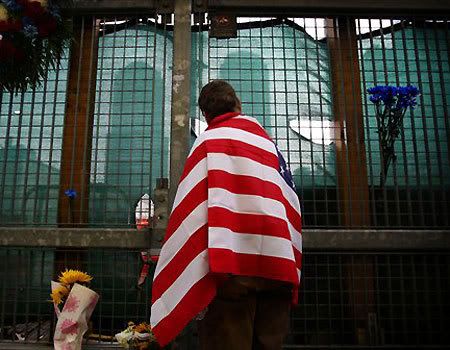 Did America lose nearly 3000 people associated with the 9/11 attacks, go through two subsequent wars which affected millions of people and families, endure permanent inconveniences in our lives at airports, stadiums and elsewhere so that years from now those who weren't born or were too young to remember that terrible Tuesday in 2001 can become mini-community organizers shilling left-wing causes while white-washing the true solemn meaning of this day? 
I don't think so.
9/11 is a solemn day of remembrance.  President Obama added "Service" to this day back in April.  Tell me — how do we remember December 7, 1941?  My teachers talked to us about the day America entered a war that had begun years before in far off lands because of a surprise attack by our enemy who needed an excuse to cripple our resolve and take advantage of our complacency. 
Sounds a little bit familiar and should be a model of how we approach 9/11 in history — let the day speak for itself, without help from politically motivated government functionaries and their interest-group friends.