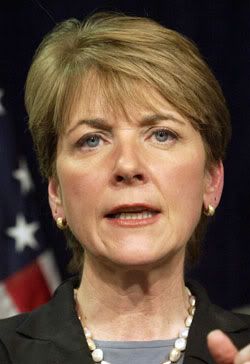 With the polls showing the race tightening and Scott Brown's victory within reach, Coakley is getting nervous, and she is acting nervous.  This is very bad for her and good for us, as it brings in another factor common to New England Politics that may have an impact on the election.  I've written about it before as a possible factor in the Massachusetts (or is it Massachusettes) Senate race, and it appears that it is now coming to fruition.
In New England politics, people vote Democrat by and large.  There are a few things, however, that often sway some of the less committed Democrats to vote Republican.  One of these is the bi**h factor.  You see, people just don't like unpleasant liberal women* running the state.  It has been my experience that many liberal women have a chip on their shoulder, and when this comes through in a campaign in Massachusetts or any other New England state (except perhaps for Vermont), that woman is toast.
Enter the Massachusetts Senate race.  Martha Coakley felt that she could coast to victory, so she stayed largely hidden from the public view.  Now that she is panicking, she is revealing the fact that she is an unpleasant liberal women.  Her latest attack ad against Brown was so nasty that it got former American Idol contestant and Scott Brown's daughter Ayla Brown to speak out against Coakley:
Martha Coakley's new negative ad represents everything that discourages young women from getting involved in politics, and as a young woman, I'm completely offended by that.
Red Mass Group, a blog devoted to organizing Massachusetts conservatives, linked to several stories in today's Boston papers regarding the emergence of Coakley's inner-bi**h.  The Boston Globe talks about Coakley ignoring ordinary voters in favor of the insiders, and even ridiculing Scott Brown for meeting normal citizens and shaking hands:
As opposed to standing outside Fenway Park? In the cold? Shaking hands?" she fires back, in an apparent reference to a Brown online video of him doing just that. "This is a special election. And I know that I have the support of Kim Driscoll. And I now know the members of the [Salem] School Committee, who know far more people than I could ever meet.'
Coakley comes across as an elitist, condescending bi**h.  A supporter of hers also describes having met Coakley, but her barely giving him the time of day:
Coakley leaves quickly, hurrying through a reception downstairs, passing up the refreshments, shaking maybe a few hands on the way out. On the front steps, she rubs elbows with city councilors and School Committee members. She gives the mayor a comradely hug and a peck on the cheek. Then she is gone.

"Do you know where Coakley went?" a man asks. He wants to get another picture of her. He chases her black Ford Taurus and tries in vain to wave it down.

The appearance characterizes Coakley's approach to this truncated race. Aware that she has little time for the hand-shaking and baby-kissing of a standard political campaign, she has focused instead on rallying key political leaders, Democratic activists, and union organizers, in hope they will get people to the polls.
There is plenty of case history on the bi**h factor in New England politics.  In neighboring Rhode Island, Democrat state Senator Myrth York ran unsuccessfully for Governor three times in 1994, 1996, and 2000, helping to lead to a 16-year string of Republican Governors.  All three times, she was considered the favorite, but exit polls consistently showed that her likability was a major factor in her defeat.  In Massachusetts' 2002 Gubernatorial election, Mitt Romney defeated Democrat state Treasurer Shannon O'Brien by five points, even though O'Brien led in the polls on election day.
Now, there's less than a week to go before election day here in Massachusetts.  It is unclear how much of Coakley's condescension and nastiness will be perceived by the voting public before January 19.  If the general public does pick up on it, however, it may be just what Scott Brown needs to get over the hump and become the next Senator from Massachusetts, and the 41st vote against ObamaCare.  Now that's hope and change I can get behind!
* Note:  This only applies to unpleasant liberal women in New England politics.  Women who come off as likable, or conservative women, are not affected by this rule.