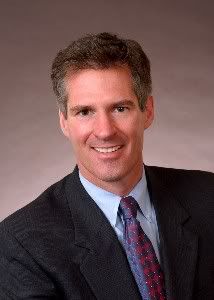 A month ago, MrsSal and I were having a conversation about the upcoming special election.  This was right around the time that ObamaCare was making its way through the Senate, and Conservatives were feeling fairly dejected.  True, we had the victories in Virginia and New Jersey, but while important, neither was earth-shattering.  Anyways, MrsSal and I were lamenting the fact that Scott Brown had decided to run now, not because we didn't like him, but because we thought it was too early in his political career.  You see, we live in Browns district, and he represents us in the State Senate here in Massachusetts.  We liked him, but thought that he may have had better success had he been a bit more of a seasoned politician.
When the Rasmussen poll came out on Jan. 4, I was ecstatic.  I thought that even a close Brown loss would be a victory for the GOP.  While I secretly hoped for a Brown victory, I never really thought he had much of a chance.  As the days went by and the polls kept coming, showing Brown inching ever closer to victory, I kept telling myself that it was possible, but unlikely.  When Coakley started making gaffe after gaffe, for the first time I thought that Scott Brown might just pull this thing off.  And pull it off he did.  Brown won tonight's election, and will be the next Senator from Massachusetts.
Brown ran a great campaign.  He ran as a conservative, and connected with the average voters.  He campaigned against ObamaCare, and made tax cuts and control of government spending part of his central message.  In the end, he out-campaigned Coakley and won a hard fought victory, coming out of nowhere and winning against a candidate whom the media had coordinated as the victor following the Democrat primary.
The Brown victory is a game changer.  It will have ripple effects on congressional retirements, it will provide a boost to people who are thinking of running for office (if a Republican can win in Massachusetts, they can win anywhere), and it will help to derail much of the Obama agenda.  Obama would be smart to pivot center at this point; all reports are that he is digging in and plans to be combative. I say, go for it.  The people of Massachusetts have spoken, and the rest of the nation will speak even louder come November.
This is the first time in my voting life that I have been able to vote for a clear winner on the Conservative side, and have my vote matter.  Being born in Rhode Island, and now living in Massachusetts (with a brief stint in New York in 2000 where I cast a vote against Hillary), I have never been able to do that.  I was in New York in 2000, so I missed voting for Rhode Island's Governor Carcieri.  I didn't move to Massachusetts until 2004, so I missed Romney's bid for Governor in 2002.  Now, I can proudly say, I helped elect a fairly Conservative Republican to the United States Senate.
America, I'm happy to say that we the people of the Commonwealth of Massachusetts have finally elected someone to represent us who stands for keeping the growth of government in check.  We have elected someone I can be proud of to represent the Constitution, and conservative principles.  While I am sure I will not always agree with Scott Brown, his election shows that Conservatism wins, and can win even here.  Brown played down his Republican credentials, but played up his Conservative message.  So to Scott Brown, I say, Congratulations.  You deserve it.  To the Democrats, I say, watch out.  We're coming for you.