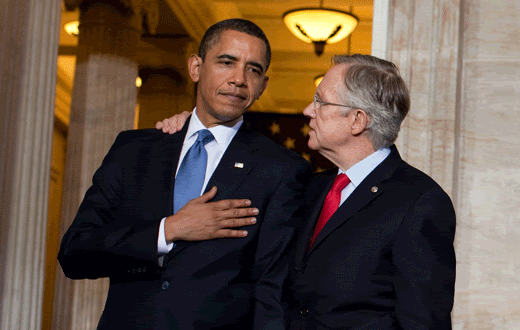 Longtime readers of Axis of Right will know that we are very picky when it comes to polling firms that we trust.  We base our analysis on polls not on just the fact that it is a new poll or a poll in our favor (we will usually avoid getting too excited about a CNN poll, for example, that shows things going our way), but rather polls that have a good, sound methodology and a history of accuracy.  We have said in the past, and continue to say, that the polls that are credible are Rasmussen Reports, Battleground, and IBD/TIPP on the national level, and Mason-Dixon and Rasmussen on the state level.  As much as I am a fan of Rasmussen, however, Mason-Dixon remains the gold standard of state-level polls.
This morning, in perusing my morning news sources, I came across a new Mason-Dixon poll that measured the result of Barack Obama's recent visit to Nevada to prop up Sen. Harry Reid (D-NV).  The results were staggering.  Reid's favorables were already in the toilet before Obama's visit, but Mason-Dixon found that 17% of voters surveyed were less likely to vote for Reid following Obama's visit, while only 7% were more likely.  That's a 10% net of Nevada voters who are less likely to vote for Reid in November thanks to The One.
We've seen this before.  Obama visited New Jersey shortly before that election, and campaign for former Gov. John Corzine.  He lost.  He campaigned for Creigh Deeds of Virginia.  He lost.  He campaigned for Martha Coakley in the bluest of blue states, Massachusetts.  She lost.  Now, he visits Harry Reid in an effort to boost Reid's election chances (despite what Reid's people say, that's what the purpose of the visit was) and it hurts Reid more than it helps him.  Obama has no coattails, and the more he shows his face in individual races, the worse off the Democrats are.  With his continued push on a Health Care plan that no one wants and an economy that is still hurting, he has blown all of his political capital and goodwill with the American public, and is directing his party off of a cliff come November.
H/T: Sweetness & Light