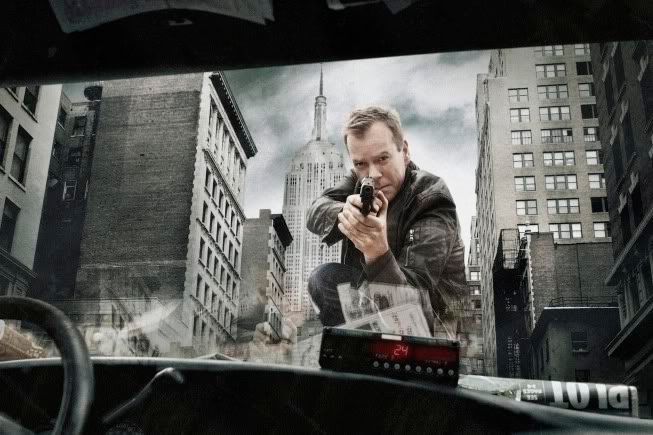 Last night, the series finale of 24 aired in a two-hour special on Fox.  I'm kind of sad to see the end of a beloved series, but also completely OK with it.  I'd rather see 24 end the way it did last night than watch it suffer and die, like so many Lost fans feel happened to a show they once loved.
Season 6 of 24 was weak, puttering-out with about 6 hours left, ending anti-climatically.  I was apprehensive about Season 7, but it's one of my favorites!  I liked how they got out of LA and into Washington DC.  Season 8 took the action to New York City, primarily at the UN.  I liked the changes of venue, but it was time to end things in my opinion:  every reasonable scenario was dealt with before getting too too rusty.   The show was about the post-9/11 world.  We love to think a Jack Bauer is there to protect us where law and politics get in the way, especially in an emergency.
But, it was time to stop and the writers understood that, so they ended the series with Season 8 — an entertaining "Day" with cool twists and turns, new enemies and old ones, intrigue, explosions, ticking-time bomb torture scenarios, etc.  Sweet!  I left satisfied with the end of a great series (if you've never seen 24 before, it's kind of like crack especially if you get the DVDs).
Please feel free to discuss your opinions about Season 8 in the comments section where you can spoil everything.