Tiogue School in Coventry, RI, is making national news for a move on crazy hat day to tell a child that his hat was inappropriate.  Why, you ask?  Look at the child's monstrosity here: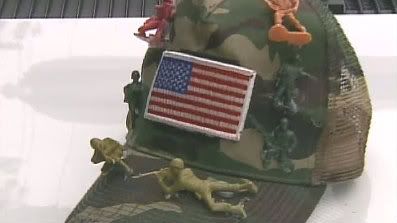 Tsk, tsk, what is society coming to!  Apparently, the principal said that the theme of the hat was cool, but that there is a zero-tolerance policy for weapons at the school.  So, since the little army men have little army guns, this violates that policy.  However, the principal is fine with the "military theme" of the hat.  Is this what we really fret out in public schools nowadays?  Inappropriate hats.  Does the kid know math?  English?  Who cares.  Ah!… but apparently he knows the wrong kind of social studies.
I grew up three miles from Lake Tiogue in Coventry and can tell you this doesn't surprise me.  My niece was suspended from school in nearby Warwick because in Kindergarten she made a brief gun-like hand gesture at recess.  She was five!  The kid with the hat (a second grader by the way) wanted to honor our troops by gluing some plastic ones onto his hat for crazy hat day!  I think it's clever, not obscene.  But, then again, I left the Democratic People's Republic of Rhode Island years ago.