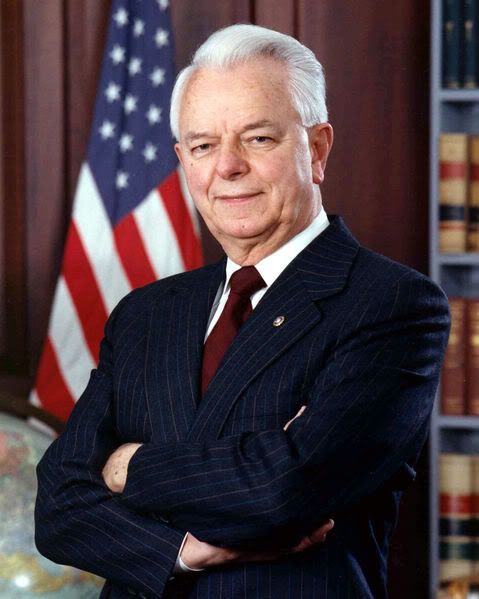 Senator Robert Byrd (Democrat, West Virginia) died today at the age of 92.  He was the longest-serving Senator in the history of our republic, having started his career in the House of Representatives in 1952, followed by his election to the Senate in 1958.  He'd been there ever since.  President Obama said today that Byrd was a "voice of principle and reason" who had the "courage to stand firm in his principles, but also the courage to change over time" (unlike Obama himself).
The President's referring to the fact that before and during his long and distinguished Senate career he's had some embarrassing moments:  like filibustering the landmark Civil Rights Act of 1964;  once being a recruiter and "Grand Dragon" for the Ku Klux Klan (an organization which he conveniently "became disinterested in" upon seeking federal office);  and a few tid-bits he's said which I won't repeat here or here or here.
Since I only ever knew the old Robert Byrd, he was kind of an old fuddy to me who offered a few bits of entertainment from time to time — kind of like a Strom Thurmond or Jesse Helms on the other side of the aisle (the side where they forgive you for once being a bigoted racist).  I never loathed him because unlike many other libs in the Senate, he seemed authentic and from an earlier era when men generally stood by their convictions and knew when to change with the times for the correct, not political, reason.  I respect a politician who is unambiguous, even if I disagree with that person.
So, the Senate loses an icon today.  However, the people of West Virginia will have much to remember him by since hundreds of signs all across the state will continue to bear Byrd's name long after today.