August 15, 1945, was the date when the Japanese Emperor Hirohito took to the radio waves and for the first time ever the Japanese people heard their emperor's voice.  The address was to tell them that the Potsdam Declaration was to be accepted and the the war with the Allies was over — World War II would finally end.  The treaty signing happened a few weeks later on board the USS Missouri in Tokyo Bay.  Hirohito was not present.
Until a few years ago only Rhode Island still celebrated today as "V-J Day" when the politically correct crowd wanted it called "Bay Day" instead.  So it became.
By 1950, the Japanese Empire was no more, they had a new constitution imposed on them, the Emperor was declared mortal and stripped of political power, the United States set up a military base on their island of Okinawa, and thousands of Japanese officers were put on war crimes trials, some ending up in executions.  Need I remind anyone of the two radioactive holes once known as the cities of Hiroshima and Nagasaki.
But, we know what happened next:  with American guidance Japan rebounded, rebuilt, and by the 1980s was a rival to the United States once again — economically this time.  I have two pictures to demonstrate the success of postwar Japan:
Hiroshima in August 1945: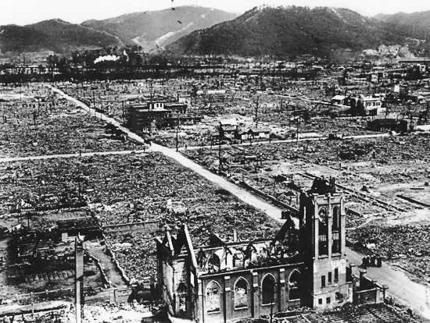 Hiroshima present day (yes, this spot was hit by a roughly 15-kiloton uranium core nuclear bomb about 65 years ago):
Amazing.