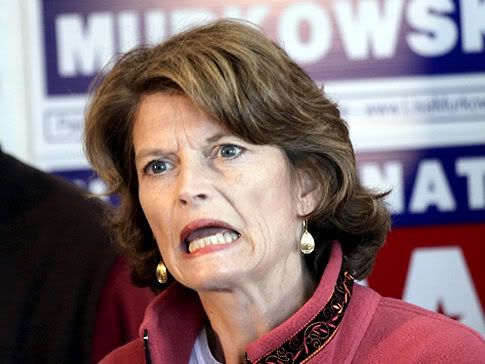 On the few occasions when Senator Lisa Murkowski bothered to pay attention to her Republican primary campaign, she was careful to emphasize that she really is a conservative who supports limited government, lower taxes, and repealing Obamacare.  It turns out Murkowski is a liar.  Tonight, Murkowski held a rally to announce her write-in campaign for the Alaska Senate seat.  At the rally, she was introduced by the Democrat who started the write-in campaign's Facebook page, a liberal who blasted the Republican Party as a whole, and some loser who explained that it was necessary to secure more federal pork spending for Alaska.
If tonight's Murkowski rally showed us the real Murkowski, then she is a liberal who is part of the problems our nation faces.  If the Murkowski we saw during the primary campaign is the real Murkowski, then she is willing to risk everything she believes in to save her political career.  Either way, she is flushing her dignity down the toilet.
Of course, Murkowski has the right to do what she is doing.  Alaska's Secretary of State is on record that election officials will count ballots for Murkowski if it the voter's intent is clear.  That would mean ballots stating simply "Murkowski" or "Lisa" would count for the sore loser.  Fortunately, that isn't true.  A write-in campaign will be extremely difficult to execute.
The Alaska Senate race just got more interesting.  However, it's still a Republican year, Alaskans will lose respect for Murkowski as the campaign unfolds and the Democrat isn't that well known.  I still think November 2 will be Miller time.