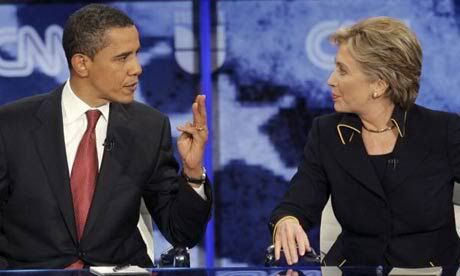 I've learned that whenever Dems speak out of step with convention, always read between the lines.
Former Clintonista Doug Schoen and recovering Carterite Pat Caddell, both pollsters, have caused quite a stir with their Washington Post op-ed yesterday:  Obama should do the right thing and announce he's not running in 2012 because they argue he has "lost the consent of the governed" and in the interest of the people should rise above conventional politics by not running again.
Fat chance!  But the op-ed feels like it's from two well-meaning Democrats who once bought into that "hopey-changey" dream back in '08, but who can also read a poll and can see that the Obama Nation is headed towards disaster.
So, Obama can rise to "greatness", embrace the idealistic promise of his campaign and take his rightful messianic position as a true political martyr by taking one for the team?  Umm… Cincinnatus Obama is not!
However, stepping aside would (completely coincidentally of course!) clear the field for the strikingly well-placed, out-of-the-spotlight, savior-to-be Hillary Clinton!  Nice try, but Obama's not going to "rise" to anything — he's too Chicago, and let's face it Obama believes everything TOTUS has been telling him anyway.