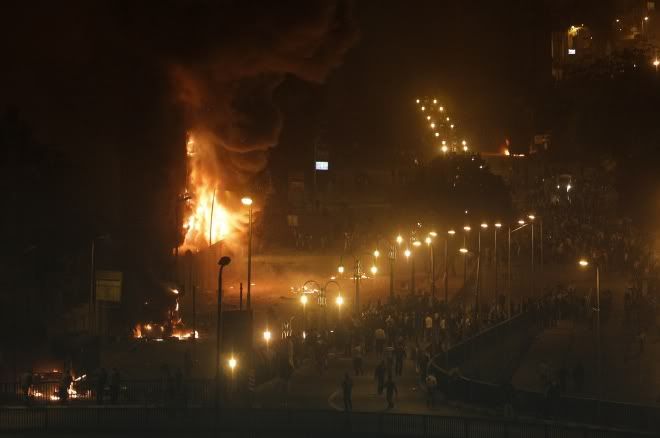 With new details breaking every few minutes what we know at this moment is that the protests in Egypt have begun to affect political change.  Egyptian dictator President Mubarak is clinging to power, but asked his cabinet to resign in a speech he gave at 12:30 am local time.  He called for perfunctory reforms, but since he's been in charge for nearly 30 years Mubarak can't hide behind mere promises, especially since he still has not let-up government control of the Internet or been able to enforce the curfews.
The military is in the street, but militaries tend not to like shooting their own people.  It seems like Mubarak cannot rely on them to get him through this unscathed, but some form of martial law might be in place by morning.  Then we'll see.
Unfortunately, the opposition seems to be more like a frustrated mob rather than a true alternative movement.  Say what you will about Mubarak, his attitude on Israel has been a positive.  The anti-American/anti-Israeli Islamist radical group Muslim Brotherhood seems to be happy to agitate this chaos and may arise as a viable opposition group.  Let's hope not, but at these moments it's tough to predict where things are headed.