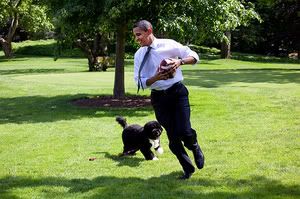 In the aftermath of yesterday's media scuffle between the White House and Speaker Boehner, President Obama capitulated, moving the date of the President's big economic speech to Thursday the 8th, rather than Republican Debate Night, Wednesday the 7th.  An obvious political ploy, the President sought to upstage the GOP field while taking the steam out of Rick Perry's first national debate appearance.  Cynical, sophomoric, but nothing we haven't come to expect from this White House.
But, Obama really wants his big campaign economic speech to be in prime time in front of a joint session of Congress for maximum media exposure, optics, and grandeur.  Unfortunately for Obama Thursday, September 8, at 8:30pm EDT is the opening game of the NFL season, featuring the champion Green Bay Packers vs. the New Orleans Saints!
How does Obama win on this one?  Give the speech next Friday and no one will see it.  Give the speech Thursday and he'll likely have to move it to earlier in the day, allowing the media an opportunity to pick the highlights, dulling the effect he wants.  Either way, he looks weak and oscillating.
If the time and place remain the same, I'd wager that the score would quickly be NFL 7, Team Obama 0, with a lot of upset fans.