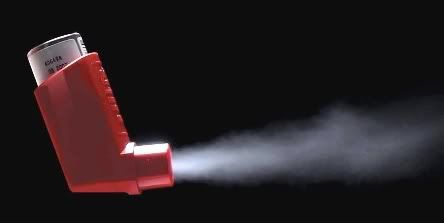 Through an Obama Administration EPA dictate, by 2012 the old-style CFC-filled asthma inhaler will be replaced by a more environmentally-friendly one which will cost nearly twice as much and will not work in the same way as the present inhalers.
As someone who outgrew childhood asthma (only to replace it with annoying seasonal allergies), I believe this is completely ridiculous.  I'm sure there's more harmful gases coming out of the far end of a cow in one afternoon than from all the puffs I took from all the inhalers I needed from age 5 through 16.
But for some reason our betters at the EPA know best, staying consistent on CFCs to the point of insanity, hurting both people's pockets and how their illness is treated.  If the EPA's going to start regulating the health industry as such, why don't they try abiding by the health industry's maxim to "do no harm" once in a while!