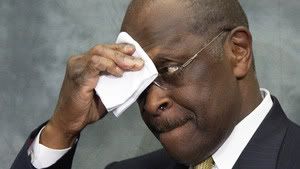 All is not well with the Cain campaign these days.  With his poll numbers dropping and allegations of inappropriate behavior continuing to drip, Herman Cain has planned to have an "assessment" of his presidential campaign.
The latest allegations of an eight-year affair with a new woman may or may not be true, but it reinforces a number of factors which are aligning against Cain:  the ongoing appearance of personal impropriety alienates values voters;  squeamishness amongst his fundraisers because of the alleged impropriety sucks cash from his coffers;  and Newt Gingrich's momentum threatens to marginalize Cain permanently in the final weeks before Iowa and New Hampshire.
That's why I think Cain's "assessment" is likely to end with his withdrawal from the race sometime soon.