As a long-time conservative recently inspired and motivated by the Tea Party over the past few years, I do not love any of the candidates who have emerged to potentially challenge Barack Obama in next year's election.  They do not seem to understand the gravity of the problems we face — any endorsement I make will have an asterisk.  Thanks, Reagan, for spoiling us.
That being said, I think Marco Rubio's solid and Paul Ryan's got moxie.  Neither of whom are running, however.  So that leaves us with the field as it exists.  Last time around I endorsed Mitt Romney — this time I won't be.    Unlike Ann Coulter, I'm going to name the person I endorse:
For the 2012 Republican nomination, I endorse Newt Gingrich.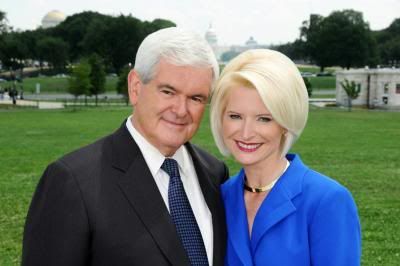 Looking at the field and understanding that it is in the primaries where one votes their conscience before holding their nose in the Fall, I have decided that Newt Gingrich is the best fit for my vote in 2012:  he has a record of conservative legislative accomplishments in difficult partisan environments;  though sometimes tends to brainstorm out loud, he has a great mind and can articulate not just what he's doing, but why it is important; and he has a depth of knowledge on so many issues that I think he'd be best prepared to deal with any "3am phone calls" that might come his way as President.  While Newt finds an ideological use for big government and has a bit of a temper at times, I still like him slightly better than the others in the field.
So why not any one else in the pack (they'd all be better than Obama)?
Mitt Romney is all over the place;  thus he is the standard for what we'll end up with if no one else emerges — not a ringing endorsement of his candidacy if he is perceived by primary voters as merely the default choice.
Rick Perry…  Would you buy a car from this man?  Me neither.
Rick Santorum in a different year under different circumstances might get my vote, but in this cycle, I'm going with experience and a wider range of accomplishments.  Tough though.
Michele Bachmann seems too divisive to give much of a challenge to Obama.
Jon Huntsman is a Democrat plant (so may be Donald Trump).
Ron Paul is great on the Fed and sound money, but is a hidebound crackpot on foreign policy.