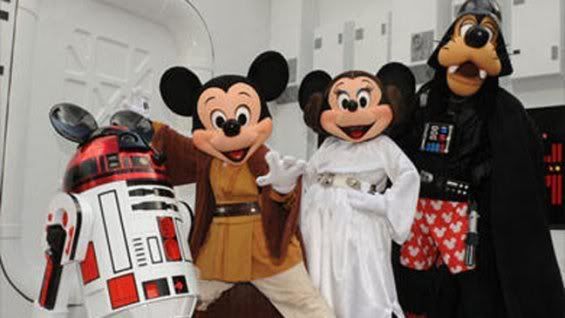 Forgive me, but I've been assembling the pieces of 21st Century living over the last six days due to Superstorm Sandy ravaging my state of New Jersey, so I am only now, five days later, in a position to weigh in on George Lucas selling my childhood Star Wars to the Evil Empire Disney for just over $4 billion.
Truth be told, I'm actually very glad to hear it.
Lucas has become an embarrassment.  Honestly, since 1997 it's been like watching Picasso look at Guernica (1937) in 1940 and recklessly penciling in an The Old Guitarist (1903) homage in the corner to give the viewer a sense that something in his collection of art came before his commentary on the Spanish Civil War.  Don't mess with your masterpiece — every artist should know that!  When Lucas added Vader screaming NO! into the blue-ray version of the saga, in my heart I knew Vader was screaming for we the fans.  That was the last straw.  Uncle George had to go.
Well, he did.  He sold Lucasfilm Ltd. for billions to Disney along with the rights for Disney to produce Star Wars 7-9.  Lucas will be a creative consultant, etc., but no producing, directing or writing this time around.  I hope we don't get a swashbuckling Star Wars Episode VII: Pirates of the Cosmos, but honestly after the Greedo debacle, Jar Jar in general, the awkwardly stilted Anakin/Padme dialog, and the No! crap, I hope some real honest fans get a hold of Lucas' Frankenstein-like franchise and produce films that the fans would adore, not just tolerate and makes excuses for.