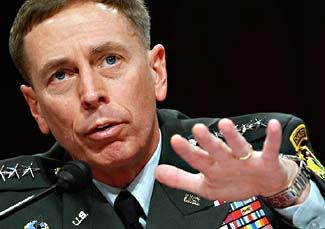 Earlier today, CIA director General David Petraeus resigned his post because of an extra-marital affair with his biographer which was uncovered by the FBI.  Such a revelation becomes a national security threat since foreign nations or internal malcontents could use such information to blackmail the CIA chief.  The affair is unacceptable and deplorable behavior on the part of General Petraeus. He did the right thing by resigning.
For some reason, I'd always thought that Petraeus' collusion with the Obama Administration would lead to no good.  Maybe I had hopes Petraeus would run for public office or do other great things with his life.  I used to raise Petraeus up to my students as a real stand-up guy who oversaw the biggest military turnaround in American history since Grant took over the Army of the Potomac during the Civil War when Petraeus led the Surge back in 2007 establishing a way for American troops to leave Iraq with honor four years later.  I won't be raising him up this year.  Petraeus' record and public service will forever be tainted by this salacious behavior.  So lamentably unnecessary.
Also, it's funny that Petraeus resigns now, just a week before he would testify in front of Congress on his "misleading" statements on Benghazi back on September 14.  Suddenly the Obama Administration tells us that Petraeus can't testify now because of this scandal.  Plus, I have a feeling anything Petraeus may say will be attacked by the administration as being vengeful or dishonest for having to resign.  Loathsome behavior on the administration's part.  As usual, it ain't the actual events which blow up a scandal — it's the cover-up.  Benghazi never smelled right.  These developments only reinforce that notion.  Too bad General Petraeus had to be a self-inflicted casualty in all this.
Petraeus was stand-up guy turned dirt bag.  Not a great week for America when heroes fall and complete asses get (re)elected to office.