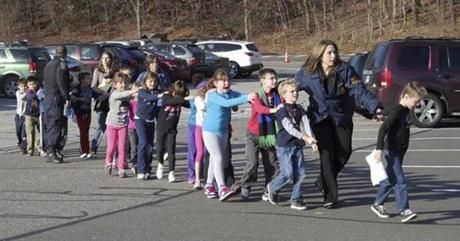 Twenty-year-old Adam Lanza killed his mother, Nancy, this morning before going to Sandy Hook Elementary School where she taught in Newtown, Connecticut.  Once Lanza entered the school sometime after 9:30am, he went on a murderous rampage, killing twenty children and six adults before turning the gun on himself.  This becomes the second-worst school shooting in American history, after the Virginia Tech Massacre a few years ago.
More details will come in time — something, perhaps, to help us make sense of this.
Our thoughts and prayers are with the families and friends of the victims of this senseless crime.
However, it didn't take long before cries went out to take guns away from people who didn't commit this crime, even though the AP is reporting that Lanza apparently suffered from a "somewhat autistic" personality disorder and NBC reports that the guns legally belonged to his mother.
Sigh.  Can't we bury the dead before we politicize a tragedy these days?  All the shameless and predictable attempts to rush the microphones in order to politicize these tragedies is maddening.  Lanza apparently had serious psychological problems, as did James Holmes in Colorado.  Aside from guns, the profile of these murderers often includes having a mental illness or clear social pathology.  So, after we take innocent people's guns away, should we then institutionalize anyone with acute to severe mental disorders while we're at it, just to make sure they can't maybe commit mass-murder some day?  Sigh, again.
Our culture is sick.  I don't have any answers on how to fix that, but it seems to me that the path to a cure can be only found in our homes.