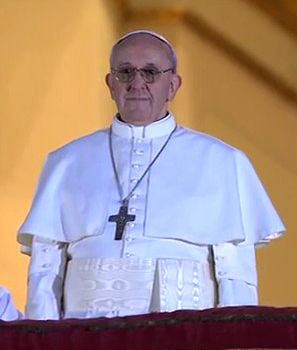 Earlier today, Cardinal Jorge Mario Bergoglio of Argentina was elected as the 266th Pope of the Roman Catholic Church.  From this day forward, he will be forever known as Pope Francis.  The new Pontiff was elected on the 5th ballot, which occurred on the second day of the Conclave.
As someone who was only a baby when Popes Paul VI and John Paul I died, the 2005 conclave which elected Joseph Ratzinger as Pope Benedict XVI is the only conclave I remember.  Needless to say, I was excited earlier in the week as the Conclave approached.  Unfortunately, I was tied up on a work-related matter as the white smoke billowed from the Sistine Chapel.  After hearing news of white smoke on the radio, I was forced to read updates on my Twitter feed.  And that is how I learned that news that Cardinal Bergoglio was elected and chose the name Francis.
Elated at the news of the new Pope, I made my way to a computer as quickly as possible to find a video of the "Habemus Papam" announcement as well as the Urbi et Orbi blessing.  Upon finding the video, I was struck by the new Holy Father's stillness during the introduction as well as his request for the laity to pray for him.  He just seemed so humble.
As it turns out, those who knew Cardinal Bergoglio could have told us that.  Despite being entitled to a chauffeur and palace fit for a bishop, Cardinal Bergoglio often took the bus to work, cooked his own meals, and chose to live in a simple apartment.  He seemed humble at St. Peter's today because he is.
Whenever a new Pope is elected, people inevitably want to know more about his background and worldview.  Well, Pope Francis is a Jesuit, the first Jesuit ever elected to the Papacy.  As those who are familiar with Jesuit-led institutions of higher learning can attest, many members of the Jesuit order are brilliant educators who can come across as a bit weird.  In fact, they are often the targets of good-natured jokes told my many of the Catholic faithful.  That's because they are often perceived as being liberal, or even anti-Catholic.
Of course, such a charge is unfair.  Most large dioceses and religious orders in the Catholic Church have a minority of priests who stray from Catholic teaching.  That doesn't mean the orders are anti-Catholic.  In fact, as his affiliation with a group called "Comunione e Liberazione" demonstrates, Pope Francis has a history of resisting the liberation theology that makes faithful Catholics squirm.  Simply stated, political labels have no application whatsoever in this context.
Unfortunately, too many commentators often view the leadership of the Catholic Church through the lens of the liberal/conservative dynamic that dominates secular politics.  For example, journalists will often ask if a new Pope will lead the Church as a "conservative" in the mold of Popes John Paul II and Benedict XVI or as a "liberal" in the mold of Pope John XXIII.
This analysis is misguided.  Popes are guardians of Catholic doctrine as it has existed for over 2,000 years.  As human beings, each Pontiff has his own personality, talents, and drawbacks.  Each may place greater emphasis on certain ideas, approach evangelization in a different way, or achieve greater or lesser success in the administration of the Vatican bureaucracy.  But none will change fundamental tenants of the Catholic faith.  The Church will still worship the one God, who is Father, Son and Holy Spirit, protect the sanctity of human life from conception through natural death, defend the sanctity of marriage as the union between one man and one woman, promote the idea of selfless love through natural family planning, preserve Apostolic succession as established by Christ himself, and leave the Bible unamended.  The doctrines of the Church will not change just because we have a new occupant in the Chair of St. Peter.
Popes are not liberal.  Popes are not conservative.  Popes are Catholic.  Pope Francis is the 266th Pope, and like all others, he is Catholic too.  And I am thrilled that he is the spiritual leader of the One, Holy, Catholic, and Apostolic Church.  I will be praying for him as he is praying for all of us.
Viva il Papa!
P.S.  A few bloggers deserve credit for their coverage of Pope's Benedict's resignation, the sede vacante, the conclave, and today's election.  Finding honest and accurate coverage of the Catholic Church can be difficult in today's media, but these people really delivered insightful analysis and useful information from the heart.
Elizabeth Scalia (The Anchoress), Ed Morrissey, Kathryn Jean Lopez, and Matthew Archbold.